Advantages of CNC Machines Over Conventional Machines
Member News
Providing the best products and services is at the heart of everything we do at GSM Valtech. For this reason, we're constantly investing in the latest machinery, which allows us to deliver high quality sheet metal work.
We use CNC machines to achieve this. From CNC laser cutting to CNC punching, we're able to manufacture products to your exact specifications. But what makes CNC machinery so much better than more conventional equipment?
What are CNC Machines?
CNC stands for Computer Numerical Control and refers to machines that are computer-operated and offer a great degree of automation. Tasks can be set and accomplished with simple prompts and the machines don't require operators to guide them with inputs like buttons and levers.
A programme, or instructions, are added to the software of the machine, which can then carry them out like a robot.
They Can Work Nonstop
One of the main advantages of CNC machines is that they can be used 24/7/365 without stopping. They need to be turned off for scheduled maintenance but, other than that, they don't require breaks and maintain the same level of efficiency no matter what. This means we can ensure our clients receive their products in a timely manner.
CNC Machines Are Accurate
Due to their nature, these types of machines are highly accurate. They can perform the same actions or tasks day in, day out, without losing reliability, making them ideal in the manufacturing industry. So, a design or shape that is input into the machine can be manufactured thousands of times and each product will look exactly the same.
This replication is necessary when manufacturing volume orders, since it saves time and money. A conventional machine, on the other hand, requires help from an operator and is more suitable for small orders or bespoke pieces.
They Offer Several Options
With a CNC machine, we can manufacture products that are difficult to make because of their cutting-edge software. Whether you have a simple request or a complex product, GSM Valtech can help. And, as mentioned, we can also update the existing software so that the machine is able to manufacture a new design or component.
This gives us many manufacturing options without ever having to purchase a new machine unless absolutely necessary.

CNC Machines Can Perform a Lot of Tasks
While a CNC machine can be bought for a specific purpose, the pre-existent software can be expanded with newer commands if necessary. The machines are dynamic and can perform a wide range of tasks – at GSM Valtech, this option means we can keep improving the services and products we offer our clients.
Highly CNC Trained Workforce
We're proud to have a trained and skilled workforce at GSM Valtech, who know everything there is to know about CNC machines and are able to deliver the best results to our customers. After all, being able to make the most of a CNC machine is crucial to maintaining high production standards.
CNC Machinery Can Reduce Labour
Because CNC machines are heavily automated, they don't require a lot of supervising. It's enough to have just one person responsible for it instead of a whole team, which means staff can focus on other areas of production.
Precise Metalwork
Our clients work in industries where precision is critical, so it's crucial that the products we make, be they simple busbars or complex sheet metal enclosures, can meet their sector's demands and strict requirements.
For example, our CNC punching machines have the ability to work on materials that range from 0.3mm to 6mm in thickness. When it comes to our CNC metal folding machines, they can bend and fold up to 80 tonnes of metal and with a current maximum width of 2.5 metres.
We can also work with many different materials, including stainless steel, copper, plastic and aluminium.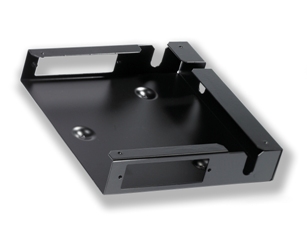 There are many benefits to using CNC machines in manufacturing and, at GSM Valtech, they're incredibly important to help us deliver quality and excellence. These machines allow us to improve our speed, capacity, accuracy, and more, so that we can manufacture exactly what you require.
If you're looking for sheet metal work, we can help, so get in touch with our experts today on 01937 586987 or send us your enquiry to [email protected].